Dunton Family Organization Online Archive
2014

Obituary
Carole Blythe (Axmaker) Dunton

Page 1
---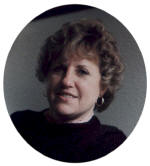 Carole Blythe (Axmaker) Dunton
LIBERAL, OREGON
Carole Blythe Dunton, 73, of Liberal, Oregon passed away at home on March 24, 2014 after a long battle with breast cancer. She was surrounded by loved ones as she drifted off to be with the Lord.
Carole was born on December 14, 1940 in Colton, Oregon to Walter A. Axmaker and Mildred Freeman Axmaker. She is survived by her husband of 53 years, Lawrence Dunton; two children: Mike (Denise) Dunton of Liberal; Deborah (Charles) Sang of Bloomington, Illinois; eight grandchildren and five great-grandchildren. She is also survived by two brothers, two sisters and the many relatives of her large extended family.
When she was a young mother and homemaker in the early 1960s, she used her entrepreneurial spirit to help subsidize the family's income by providing daycare services and custom seamstress work. As her children grew older she reentered the workforce and held various office, banking and bookkeeping positions. After "retiring" in the late 1990s, she used her skills and talents to help at the Victory Seed Company that her son founded on the family's farm.
Throughout her life, Carole loved to garden and to create beautiful landscapes. She said that she felt closest to Jesus while working in her flower gardens. After her illness progressed to the point where gardening became too difficult, her creative talents were redirected towards making beautiful quilts which she shared with the special people in her life. Her memory lives on through these quilts.
Carole touched the lives of many people over the years; sharing her love of God and her passion for life. She loved being with her husband, children, grandchildren and great-grandchildren. She also loved her animals, singing, sewing, needlework, crafts, cooking and baking. She was a devoted wife, mother, grandmother, great-grandmother, sister, aunt, cousin and friend.
A service celebrating Carole's life was held on May 3rd at the Evangelical Community Chapel of which Carole was an active member. Private entombment in the family's mausoleum on the farm was held with immediate family members in attendance.
In lieu of flowers, donations may be made in Carole's memory to the Evangelical Community Chapel (29079 S Highway 213, Molalla, OR 97038).
---
Copyright © 1996-2018 by The Dunton Family Organization -- All rights reserved
To view The Dunton Homesite™ privacy policy, click here.
The Dunton Homesite™ is the property of The Dunton Family Organization
This page was last Updated January 16, 2019 .